Details
This home executive desk fits your decor. Simple, clean and straight-lined, the L-shaped top appears to float above the drawers and legs for a suspended look. Made of Particle Board, Tobacco Wood . Theer are many storage to satisfy you
FEATURES

Motivation starts with a great office or study space.
Enjoy the contemporary design of this popular office desk while getting all of your work done in style.
Featuring wood high gloss finish with a gold metal base, this practical yet fashionable desk offers ample surface room and?4 storage drawers for your office supplies or other accessories.
Perfect for any office space in your home, this piece will offer you an excellent space to organize all of your work and study needs.
CARE INSTRUCTIONS
Clean surface with a clean, wrung out cloth.
Use of chemical cleaners is not advised.
Specifications
product size : 39.76"H x 61.02"W x 55.12"D

product weight : 180lbs
CONSTRUCTION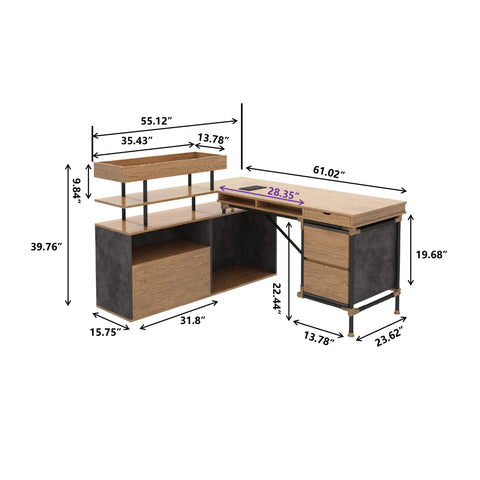 TYPE

Bookshelf

GENERAL DIMENSIONS

39.76"H x 61.02"W x 55.12"D

BOX DIMENSIONS(3)

50.8"*27.2"*5.5"

58.7"*25.2"*5.5"

57.9"*8.7"*3.5"

WEIGHT(LBS)

182.4

UPHOLSTERY COLOR

Wood grain

MATERIALS

High Gloss, MDF, Metal Tube